Jolipet Diet with Beef
Complete top-quality food for adult dogs, based on a unique source of protein formulated in conjunction with university researchers. High-quality ingredients promote maximum digestibility.
Composition
Jolipet Beef Adult contains only ingredients suitable for human consumption and no offal or fruit and vegetable residues. Jolipet Beef Adult contains:
60% ox hearts, a lean, high-quality protein source. Beef is one of the most common protein sources for pets, because of its high-quality protein.
Lightly blanched rice, for easy digestion, and source of necessary energy
Vegetable oils and fats provide the ideal omega-6/-3 ratio.
Purified minerals and vitamins, for maximum absorption in the digestive system, to provide an optimal calcium/phosphorus ratio, among other things.
Thanks to our ongoing co-operation with university researchers our recipes are based on the latest scientific research into pet nutrition.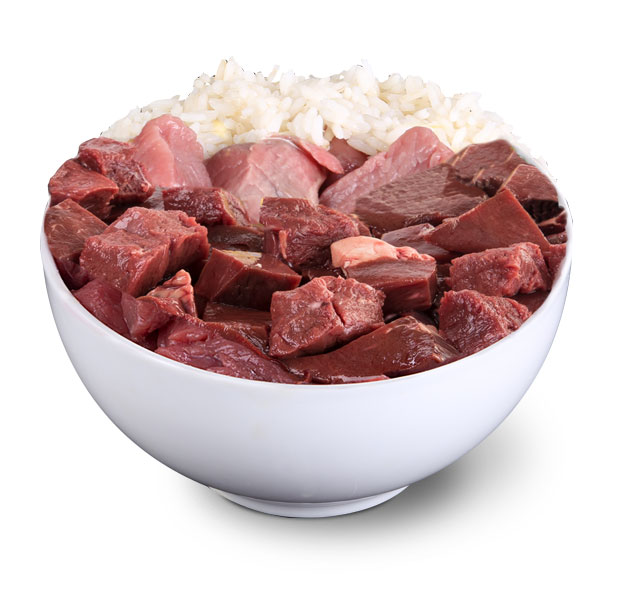 1.
Beef
Premium quality, 0% offal
2.
Minerals
Purified for maximal digestion
3.
Vegetable oils and fats
For optimal overall omega -6/ -3 ratio
4.
White rice
Gently heated for easy digestion
Additives per kg
Zinc-Zn/Zinc sulphate, monohydrate 33,1 mg, Iron-Fe/Ferrous sulphate, monohydrate 17,3 mg, Manganese-Mn/Manganese (II) sulphate, monohydrate 4 mg, Copper-Cu/Copper (II) sulphate, pentahydrate 2,9 mg, Calcium iodate , Anhydrous 0,7 mg, Selenium-Se/Sodium selenite 0,1 mg, Vitamin A 4447 IU, Vitamin D3 575 IU
In addition, our recipes contain other vitamins and minerals, optimally meeting the needs of your pet.
Dietary Advice
Recommended daily amount, in grams per day (nuggets of 25 g per day), ideally to be divided in two to three servings)
Target weight1
Daily recommended serving
1 kg
60 g

(2 nuggets)

2,5 kg
110 g

(4 nuggets)

5 kg
180 g

(7 nuggets)

10 kg
310 g

(12 nuggets)

15 kg
420 g

(17 nuggets)

20 kg
520 g

(21 nuggets)

30 kg
710 g

(28 nuggets)

50 kg
1.040 g

(42 nuggets)
These recommended daily amounts are only a guideline, because the needs of dogs vary. Therefore, adjust the amount of food to maintain ideal body weight. Always provide fresh drinking water.
This guideline also assumes that your dog eats nothing else than this food. If your dog gets snacks or other food on a daily basis, you need to lower the recommended daily quantity.
1 The target weight of your dog is its ideal weight (score 4-5 in the body condition system), i.e. you can easily feel its ribs without feeling any fat, its waist is clearly visible behind the ribs in top-view, the abdominal belt is clearly visible in side-view.
Instructions for Use
Raw meat can contain pathogenic micro-organisms and should be treated like all raw meat. Please take the necessary precautions:
Maintain the cold chain at all times after the food is purchased;
Always wash your hands after giving the food;
Remove any residue after use and wash the dish completely with washing up liquid;
Never let your dog lick your hands (or your face) after your dog just has eaten;
Make sure no small children come near the raw food.
Jolipet Horse Puppy tastes nice cold (fully thawed in the refrigerator or microwave) or reheated (in microwave or pan).
If served cold, two options:
Fully defrost in the refrigerator. Typically defrosting takes 12 hours. In other words: take out of the freezer in the morning and place in the refrigerator in the evening to serve in the evening; take out of the freezer in the evening and place in the refrigerator to serve the next morning. Never defrost at room temperature.

or

Fully defrost in the

microwave

. The length of time needed to defrost depends on the type of microwave oven and the quantity to be defrosted. Ideally, food is defrosted at low power (low wattage), as you would defrost meat. At 350 Watt it takes about 6 minutes to defrost 500 g.

If served hot:

Fry in a

pan

, as you would hamburgers.

Before use mix the food and allow to cool (if warmed up). Always provide fresh drinking water.

Never change food at once, but gradually increase the dose of the new food.

Directions for storage

Fresh frozen food has the advantage of preserving the freshness of the nutrients for a long time. We assume a maximum storage period of 18 months at-18 ° c, after the day of production. Please see the best before date on the package.

Thawed food has a 24-hour shelf life in the refrigerator. Never re-freeze defrosted food.